Young's Park is located in the middle of Gunnerkrigg Court and is named after Sir Young. It is tended to by Bob and Marcia Sutton and their Laser Cows, the married couple live in a house near a forest.
Antimony Carver describes the park as nice and tidy, as opposed to the Gillitie Wood.
The park is also used for housing plants that come from Gillitie Wood after they've been completely cut off from the forest's magic, such as Bound dogs and Robot's wooden arm.
Chapter 24 is the only chapter that has given a proper focus on the park. The park appears to be very misty, although Kat remarked on how bad the weather was, so it might just have been that.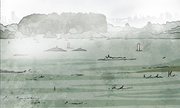 Layout
The park has an exit with a railway station. The station is located far away from the center of the park, however.
In the center there is a small forest where the schoolkids set up their camp. Nearby is the monument to Sir Young and his Orjak, as well as the Sutton House. The monument is usually covered up by overgrowing plants, as the laser cows stay away from it.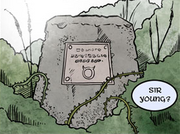 Since the Suttons also tend to the Decontamination Habitats, they are presumably closeby.
Inspiration
According to Tom Siddell himself, the park and the cows takes inspiration from a park likely near his place of residence, though he did not state exactly which park. It might be Sutton Park.[1]
List of Appearances
Community content is available under
CC-BY-SA
unless otherwise noted.