Gunnerkrigg Court Volume One: Orientation is the first published graphic novel of the Gunnerkrigg Court webcomic written by Thomas Siddell. The book was originally sold on lulu.com in 2006, but was later distributed by Archaia Entertainment (Formerly known as Archaia Studios Press) on 28 July 2009. In 2015 it was also released in a paperback edition and reprinted by Boom Studios
It collects the first fourteen chapters of the book, and concerns Antimony Carver 's first year at the school.
Official Synopsis
From the Lulu edition
Gunnerkrigg Court - vast, dark, and a bit oppressive - is no ordinary school. This is the place where young Antimony Carver is sent to continue her education after her mother passes away. Much like Antimony, the mysterious school is not all that it appears at first glance. Its size conceals many secrets, from mythological creatures to hidden histories about its past students, including Antimony's parents. As Antimony and her new friend Kat settle into what ought to be an uneventful school life, they encounter unexpected challenges and make new friends, as well as enemies. Throughout all this they discover that there is very little about Gunnerkrigg Court that is ordinary, uncovering more questions than they can answer.[1]
From the Archaia edition
Antimony Carver is starting her first year of school at gloomy Gunnerkrigg Court, a British boarding school that has robots running around along side body-snatching demons, forest gods, and the odd mythical creature. The opening volume in the series follows Antimony through her orientation year: the people she meets, the strange things that happen, and the things she causes to happen as she and her new friend, Kat unravel the mysteries of the Court and deal with the everyday adventures of growing up.[2]
Chapters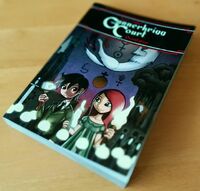 This volume includes the following chapters:
Differences between online and physical copy
The very first page of Chapter 1 does not show Antimony herself.
At the end of the book there's a picture not shown on the regular pages on the website. It shows Tom and Tea at the school.
References
Community content is available under
CC-BY-SA
unless otherwise noted.