On 28 January 2020, Magnesium Films announced on a blog post that they had signed a deal with Tom Siddell over the rights to adapt Gunnerkrigg Court into an animated series.[1] Tom also tweeted about it on the same day.[2]
No news have arrived about this potential project as of 1 March. But it has been confirmed that Magnesium is working on a different project called The Dream-Quest of Vellitt Boe.
Magnesium's Blog post
Underneath is the text about Gunnerkrigg Court taken from Magnesium's blog post
Our First Project
I'm thrilled to announce that we just signed the option for Tom Siddell's webcomic epic, "Gunnerkrigg Court," which has been ongoing for 15 years, amassing a readership of over 1 million avid fans.
I was introduced to Gunnerkrigg and Tom by our advisor Patrick Lee and was immediately struck by the emotional depth and personal struggles of the characters. It's easy to forget how extreme childhood was - sometimes endlessly dark, and the next minute unimaginably beautiful. It's powerful to see it portrayed so honestly, and mesmerizing to see that range woven into a world of robots and demons.
The timing for this story couldn't be better. Because Disney is ending its licensing deals with other networks in order to fortify Disney+, there is a spike in demand for children's programming from the other platforms and networks. And because Gunnerkrigg Court is currently on its 74th chapter, it is poised to become a blockbuster multi-season series.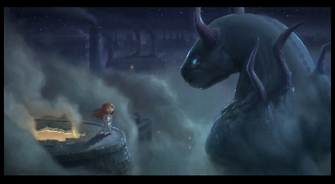 Gunnerkrigg Court Synopsis: When orphaned Antimony Carver is taken in by a shadowy institute that can program spiritual energy like software, she knows that her near death experience is her only chance for survival. She must navigate a world of capricious demons and artificial intelligence in order to stop the war between the spirit world and the technological ambitions of the institute. But even as her powers grow stronger, her friendships remain her greatest weapon.
What happens now?
We are in final negotiations on a slate of incredible stories, so over the next few months we will be announcing new projects, and sharing insights and data from the world of entertainment development.
Options have a time limit, usually 18 months. This means the clock is ticking, so we'll be sharing stories from the road as we pitch our projects to platforms, studios and networks.

References
External Links