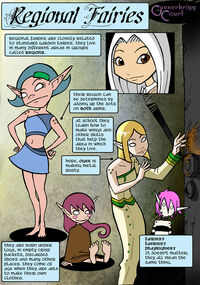 Fairies are creatures of the Gunnerkrigg Court Universe. The only ones known of come from Gillitie Wood. These are Regional Fairies, though Garden Fairies are also said to exist.
Culture
Fairies are born under logs, in discarded shoes or other places. The Regional Fairies have dots on their arms to show which Region they belong to. Regional Fairies are considered adult when they can make their own clothes. Depending on where the Region lives they learn different skills to cope with the environment, for example by making wings or oxidizing metal.
They also doesn't get a name until they finish school. Since the young do not have names they usually refer to each other by insults, if one might be given a nickname by someone that becomes their actual name.
Coyote later reveals that fairies are born with their spirits and minds already separated from their bodies, so they can decide to take The Test at any time without the aid of a powerful being like himself. Coyote considers the Test to be a blessing for them, as it allows them to be reunited with the removed pieces. All female students in Foley House are former fairies, as well as at least one teacher.
Notable Fairies
Snuffle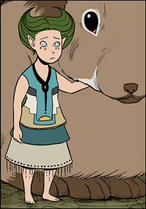 "Snuffle" is the true name of the a faerie that featured prominently in Chapter 48: Tall Tales and Chapter 54: Meetings and Re-Meetings. She is notable for being friends with a female jackrabbit, that went to the court to become human. Curiously, she also seems to be the only fairie shown so far with visible eyes. Until very recently she was known by readers as "Green".
She is first seen on her way to the Forest Meeting Grounds, riding on her friend's back, when a frog creature hops up to her.
Her real (and very secret) name, which was given to her by her rabbit friend, is a series of rabbit sniffs which technically translates as "snuffle".

Other Faeries
List of Appearances
Community content is available under
CC-BY-SA
unless otherwise noted.