Coyote was an ageless, powerful trickster deity. Though he is originally from North America, he currently resides in Gillitie Wood.
Personality
Everything Coyote does is for his own amusement.[2] He can find a reason to laugh about almost anything, no matter the situation. When he talks, he's always on the verge of laughing and not really able to keep from shouting. He's playful and dramatic, comical and juvenile, prideful and narcissistic, and perpetually up to something.
Despite his seemingly harmless demeanor, Coyote is still a God and he's not going to let anyone forget that anytime soon. As a very powerful being, he fears nothing and is not bound by a strict code of morality. [3] He can be civil and playful one moment, and violent and terrifying in the next. He uses his power to do whatever he wants, without a care for the consequences of his actions. Friend or foe, Coyote does not care what happens to you as long as he has his fun. [4]
Coyote takes great pride in anything he does. He loves to talk about himself, or hear others talk about him. Like any traditional trickster he likes to mess with people, sometimes for his own amusement or sometimes to teach them a lesson. He's not above getting into people's personal space, making them uncomfortable, or even resorting to violence to prove a point.[5]
According to Jones, he does not lie but that does not mean he will tell the complete truth. He will omit information, phrase answers to questions to the point where they would no longer have meaning. For instance, he has promised to never directly harm the court, but several of his actions have led to indirectly placing several people from the court in danger.
History
Pre Main-story
According to legend (mostly corroborated by himself), Coyote was present during the creation of the world. During this period, he came across the great spirit placing stars in the sky. He offered to help, arranging them in pictures of many great beasts. After awhile he got bored and scattered them across the skies instead. After seeing the creation of humans he decided to make his own, unfortunately he laughed so much they turned out to be imperfect, and thus the Shadow People were made. Jones has also claimed this to be an accurate account, despite also saying that the Earth and stars all existed long before Coyote ever did (not as contradictory as one might think--see Coyote's Great Secret).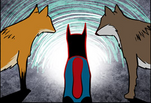 In more modern times, he heard about the fox spirit Renard's exploits in Europe. Delighted to know that there was another canine trickster like himself, he decided to cross the ocean to meet his 'cousin'. When he arrived he found both Renard and Ysengrin in France, and the two decided to follow Coyote.
The three then traveled to the place of The Court, finding the dispute between humans and forest creatures. To stop the fighting Coyote opened up a great chasm between the Court and the forest. Coyote then promised to leave everyone on the court's side alone.[6] However, after the Court used Diego's Arrow to make the waters impassable, a bridge was made on their terms.
At some point afterwards, offered to give Renard some of his powers, but Renard refused out of his desire not put a rift between his human friends. However, even the chance of Renard gaining such power made him a threat in the eyes of the Court. Surma tricked Renard into thinking she loved him, in order to lure him to the Court. Coyote easily recognized the trick, but did nothing to stop it. Renard soon asked Coyote for the power to steal bodies, which Coyote enthusiastically granted, although it had the slight flaw of killing any body it possessed (for some mysterious reason). Much to Coyote's sorrow, Renard used this power to go to the Court, and was then imprisoned.
Main-story
Though Coyote is not shown this early, he was behind the attempted kidnapping of Renard, now known as Reynardine, in Chapter 7: Of New and Old, resulting in the death of one of the shadow people.
Coyote first appears in the comic when he and Ysengrin is to have a meeting with the staff of The Court after the events on Annan Bridge involving Robot. During this meeting he first mistakes Annie as Surma, and then mistakes Eglamore to be Annie's father. He is also glad to see his cousin Reynardine and unsuccessfully invites him back to the forest. He then sniffs Annie in the butt, making her slap him. This upsets Ysengrin and he goes rampant. Coyote then knocks him down and apologizes for everything, invites Annie to visit the forest at any time and then leaves.
At the start of next year Annie visits Coyote and he tells her some stories about himself, and then picks the moon out of the sky placing it right before Annie, whom then touches it before he bites it down and it returns to the skies. After telling a few more stories and answering a few questions he sends Annie back to the Court and reminds her of their hospitality.
Relationships
Coyote likes Renard, and the fact that he preferred him over Ysengrin was no secret. He considers him his cousin, in the sense that they are both canine trickster figures. He knew about his crush on Surma, and considered him a fool for falling in love. After Renard was captured by the court, he considered getting him back, but when he saw him alongside Surma's daughter at a meeting with the Court, he knew that Reynardine wouldn't leave so easily.
Coyote has no respect for Ysengrin and manipulates the wolf's adoration for him to use him as a personal slave. He even removes his memories to keep his loyalty strong.
"Fire-Head Girl", as Coyote calls her, is his friend (as much as a devious narcissistic trickster god can have human friends). He often invited her to talk in the Forest, and later named her the official Forest Medium. He cares about her happiness mainly because she makes him happy, although none of this stops him from trying to kill her if he thinks it would be more interesting.
Abilities
As a God, Coyote has a great number of terrifying and magnificent powers.
Life Creation: After he saw how humans were created, he attempted to make some of his own but laughed part way through and created the glass eyed Shadow Men instead.[7]
Shapeshifting: Coyote can twist, grow, shrink or change his form entirely. The form he takes usually depends on his mood. [8][9][10]
Etheric Vision: Coyote can see the magical properties or qualities of something or someone at first glance. As magical being, he also "swims" through the ether.
Earth Manipulation: He scored the earth with his paw and created the ravine holding the Annan Waters.[13]
Power Transference: He can give his powers to another, at the cost of using them again himself.[14][15] These powers come with a cost though: the powers he gifts to others are imperfect, while he could use them with no trouble.[16]

For example, he once had the ability to take over bodies. He could possess anything with eyes and leave them unharmed once he released control. When Renard received this ability, any body he takes dies when he leaves it.
He also once had the ability to control the trees, but when he gave these abilities to Ysengrin, it left the wolf constantly shaking and possibly draining him of his health.
Dream Walking: He can look into someone's dreams.[17]
Time Manipulation:: He can stop time.[18]
Memory Alteration: Coyote can remove memories by eating them. He used this ability to remove Ysengrin's memories.[19]
Hypnosis: He might have the ability the hypnotise others. For example, Ysengrin was horrified and confused after he tried to attack Antimony. Similarly, Renard was very reluctant to take over a young man's body because he knew the man would die, and Coyote is shown staring into his eyes to convince him.
Enhanced Strength: Coyote can knock over buildings for something as little as a tantrum.[20]
Trivia
Coyote is based upon the eponymous character known throughout indigenous North American folklore, a figure that can be funny or fearsome, known in some lore said to be a trickster and/or a god. Like his mythical counterpart, he is neither good nor evil, and while not entirely selfish, he ultimately takes pride in anything he does — whether the action harms or helps humankind.
Gallery
Appearances
References
External Links
Coyote on the Fictional Character Battles Wiki
Coyote on the DebatesJungle Wiki
Community content is available under
CC-BY-SA
unless otherwise noted.